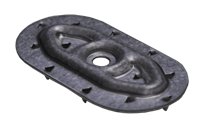 SAGINAW, Mich. — Duro-Last Roofing, Inc. is pleased to announce the availability of three new accessories to our product line: oval membrane plates, Tubos® and non- penetrating anchors which are offered in two different sizes. All three products provide more options for authorized Duro-Last contractors to install a complete roofing system.

The oval membrane plates are used to mechanically fasten roofing membranes. "We currently offer a round metal fastener plate but we saw an opportunity for improvement so we have added a new design to make a fastener plate with a narrower oval shape. "The new design will reduce the lap spacing on rolled goods installations by 17 square feet per roll," said Keith Gere, director of Engineering Services. "We are always looking for ways to improve our accessories line to make items more functional for our contractors, and the response thus far has been very favorable."
Tubos® are pre-fabricated PVC plumbing vent pipe extensions. "This product is a great accessory as part of a "complete roofing system", said Steve Ruth, Vice President of Marketing and Sales. "When vent pipes need to be extended to accommodate additional layers of insulation, or meet building codes, we can now offer our contractors the ability to order the extensions directly from us when they order all their other materials."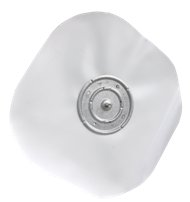 Non-penetrating anchors are lightweight equipment attachment systems consisting of a galvalume-coated steel plate with an integrated stainless steel bolt, heat-fused to a Duro-Last® membrane skirt. The bolt is compatible with the support framing of all rail systems, and the anchors provide a non-penetrating option for securing racks for photovoltaic systems or other equipment to the rooftop. They are available with 12" x 12" or 16" x 16" skirts, which are
For more information, visit www.duro-last.com.