The effect of high winds on roofs is a complex phenomenon, and inadequate wind uplift design is a common factor in roofing failures. Damage from wind eventshas historically been dramatic, and wind-induced roof failure is one of the major contributors to insurance claims.

Mike Ennis
While vegetative roofs, sustainability, and "cool" roofing remain hot topics, wind uplift testing and design remain a key focus of the roofing industry.
SPRI, the association representing sheet membrane and component suppliers to the commercial roofing industry, has made significant progress in the development and approval of key wind design standards for roofing professionals.
As an accredited American National Standards Institute (ANSI) canvasser, SPRI has the unique ability to help the roofing industry develop standards for acceptance into the building codes. Over the past several years, SPRI has developed 10 ANSI approved standards, two of which have been adopted by the International Building Code (IBC) and three of which have been proposed for code.
Key Wind Standard Approved by ANSI
Probably the biggest news on the wind design front in the last year was the approval of ANSI/SPRI/FM 4435/ES-1 Wind Design Standard for Edge Systems Used with Low Slope Roofing Systems.
This standard provides the basic requirements for wind-load resistance design and testing for roof-edge securement, perimeter edge systems and nailers. It also provides minimum material thicknesses that lead to satisfactory flatness, and designs to minimize corrosion.
Roof designers use the standard, along with the specifications and requirements of roofing and edge material manufacturers (excluding gutters) for their wind designs. The latest revision to ES-1 combines the performance requirements included in the enhanced version of ES-1, and has been expanded to include requirements addressed in FM 4435.
What's most important is that this revision of ES-1 not only incorporates components of FM 4435, but also addresses many of the questions and concerns that have been raised about ES-1 over the years.
SPRI worked closely with other organizations in the roofing industry during the revision of this standard to assure that their concerns were carefully considered and taken into account in this version.
Among other things, the ANSI/SPRI/FM 4435 ES-1 standard addresses roof edge securement to help prevent it from becoming a potential weak spot in low-slope roofing performance.
FM Approvals' Phil Smith has often been quoted as saying that "the integrity of the perimeter flashing is a critical first line of defense against roof failure."
In 1992, Hurricane Andrew became the third Category 5 hurricane to make landfall in U.S. history, and it caused $26.5 billion in damage—mostly in South Florida. It was also estimated that 75 percent of all building losses were due to roof failure.
A study of 145 FM-insured locations showed that 85 failed due to system failure at the roof perimeter. Simply put, the membrane attachment to the deck could not withstand the loads created when these perimeter systems failed during the hurricane.
For more information, download FM 1-49 and see section 2.1.1, (paragraph three).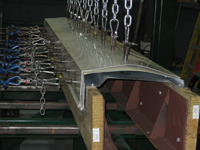 As part of the ES-1 testing protocol, RE-3 tests upward and outward simultaneous pull of a horizontal and verticle flanges of a parapet coping cap. (Photo courtesy of W.P. Hickman, Arden, NC.)
SPRI also knew that more recent post-hurricane investigations by the Roofing Industry Committee on Weather Issues (RICOWI) consistently showed that, in many cases, damage to a low-slope roof system during high-wind events begins when the edge of the assembly becomes disengaged from the building. Once this occurs, the components of the roof system (membrane, insulation, etc.) are exposed. Damage then propagates across the entire roof system by peeling of the roof membrane, insulation, or a combination of the two.
For this reason, SPRI's landmark ES-1 standard ("Wind Design Standard for Edge Systems Used with Low-Slope Roofing Systems") was developed in 1998. It is currently referenced in Section 1504.5 of the 2003, 2006, 2009 and 2012 International Building Code (IBC). The standard provides design professionals with information for calculating wind loads on metal roof edge systems and prescribes the test methods to be used to ensure that the supplied edge system is capable of resisting that load. There are three tests that make up the ES-1 standard—RE-1, RE-2 and RE-3.
Again, it is important to note that the latest version of ES-1 has been expanded to include requirements addressed in FM 4435, "Approval Standard for Roof Perimeter Flashing." For state-by-state adoption of IBC by year, roofing professionals can visit www.iccsafe.org/gr/Pages/adoptions.aspx.
SPRI also submitted code change proposals to request that ANSI/SPRI RP14 "Wind Design Standard for Vegetative Roofing Systems" and ANSI/SPRI GD-1 "Structural Design Standard for Gutter Systems Used with Low-Slope Roofs" are included in the 2015 IBC.
ANSI/SPRI RP-14 provides a method of designing wind uplift resistance of vegetative roofing systems. Growth media, stones, pavers or combinations thereof provide the ballast or weight needed for vegetative system(s) to resist wind uplift forces, even though the system is neither adhered nor mechanically fastened. Thus this standard helps identify the ballast type to resist uplift forces, as well as drainage options.
RP14 is much like ANSI/SPRI RP-4 for ballasted systems and is a design guide that is intended to keep the vegetative roof system in place and prevent blow-off of vegetative roof materials.
ANSI/SPRI GD-1 provides designers, contractors, and building code officials with information for proper structural design of gutters used with low-slope roofing. GD-1 is much like ES-1 in that its purpose is to provide test requirements for gutters to assure they will withstand design wind loads. In many cases, the failure of the gutter system leads to failure of the roof in the same manner as failure of the roof edge system.
The Role of Fasteners in Wind Performance
SPRI successfully revised and re-approved ANSI/SPRI FX-1 "Standard Field Test Procedure for Determining the Withdrawal Resistance of Roofing Fasteners" on Aug. 11, 2011. The standard plays a major role in the design of wind resistant roofing systems as it relates to roof fasteners.
SPRI developed this standard for measuring the pullout resistance of roofing fasteners in field conditions. Specifically, it is used to obtain data used by roofing professionals to calculate the proper density and placement of roofing fasteners used in membrane roofing systems and by roofing installers and inspectors as a quality control test to ensure that sufficient pull-out performance is achieved. It was first approved in 1996 and revised and re-approved again in 2001 and 2006 in accordance with ANSI's five-year renewal requirement.
In addition, SPRI is updating ANSI/SPRI WD-1 2008 "Wind Design Standard Practice for Roofing Assemblies" to comply with the current American Society of CivilEngineers (ASCE) document.
ASCE 7-10 "Minimum Design Loads for Buildings and Other Structures" was significantly revised last year. These revisions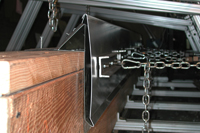 This gravel stop is being tested according to the ANSI/SPI ES-1 standard using the RE-2 test for fascia systems
will affect every roofing professional who uses ASCE for determining wind loads on structures.
Some of the revisions include new wind speed maps using a 700+ year return, reinstating Exposure Category D for hurricane-prone coastlines, as well as "simplified" procedures for determining wind pressures for buildings of all heights.
ANSI/SPRI WD-1 2008 was developed with support from several roofing industry partners to help roof designers. It provides a two-part methodology of designing for wind uplift resistance of non-ballasted built-up, modified bitumen, and single-ply roofing system assemblies installed over any type of roof deck.
"ANSI/SPRI WD-1 has always been an excellent tool to assist architects and consultants with the design and installation of roof systems that are compliant with the wind resistance requirements of the IBC," says SPRI President Bob LeClare. "However, the easy-to-read tables and other pertinent data in WD-1 must be updated to comply with the new calculations contained in ASCE-7, as required by the IBC."
"WD-1 is based on ASCE 7," adds SPRI task force chairman Joe Malpezzi. "So, in order to keep WD-1 current, it is being updated to reflect the changes from ASCE 7-05 to ASCE 7-10."
In addition, a code change proposal was submitted by SPRI to include this standard in the 2015 IBC.
Wind Design for Ballasted Systems
SPRI is also revising another important standard on wind loads for re-approval as an American National Standard. The revision will update ANSI/SPRI RP-4 "Wind Design Standards for Ballasted Singly-ply Roofing Systems" to comply with the current American Society of Civil Engineers (ASCE) document.
ASCE 7-10 "Minimum Design Loads for Buildings and Other Structures" was significantly revised last year.
Ballasted roof systems, in particular, are a cost-effective and energy-efficient roofing method for low-slope roof assemblies. The concern with these types of systems has been keeping the roofing assembly in place, and loose gravel being a source of windborne debris during high wind events. RP-4 is a design standard that has been specifically developed to address these critical issues. It is based on hundreds of wind tunnel tests, field exposure tests, and decades of experience.
The revision process for ANSI/SPRI RP-4 was initiated in the summer of 2011. SPRI's latest revision of ANSI/SPRI WD-1 has been proposed for inclusion in Section 1504.3 of the 2015 IBC.
Those wishing to participate in the canvassing process for these two documents should contact SPRI at info@spri.org.
 In the meantime, SPRI members will continue to identify areas within the industry that will benefit from the collective efforts of the association. Whether it is the development of standards, performing technical research, providing input to industry codes or developing industry education programs, SPRI's focus is to provide unbiased information that will enhance the community of knowledge and to help advance the industry as a whole.