Vaisala, a Finnish company and global leader in weather, environmental and industrial measurements, recently opened its new North American headquarters in Louisville, Colorado. Designed by OZ Architecture of Denver, the office building blends Scandinavian style and sustainable, net-zero-ready functionality.

Tubelite Inc.'s curtainwall and window wall systems contribute to the building's crisp, modern, minimalist, high-performance design. Thermally broken aluminum framing, low-e insulated glass and Tubelite's PTB120 Thermal Pressure Plate supplied by Deceuninck further support the building envelope's sustainability and energy-efficiency goals.

Naturally welcoming design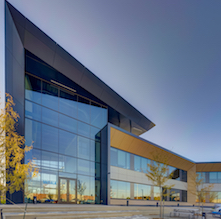 Creating a fluid, indoor/outdoor campus, Vaisala's new two-story, 35,000-square-foot building accommodates the majority of the company's 150+ Colorado-based employees and a weather-monitoring operations center. It also serves as a conference and training center for customers and researchers from around the world.

Welcoming its U.S. staff and its global visitors, the architectural design of Vaisala's headquarters presents an open, inviting and collaborative facility. OZ described the building's exterior as inspired by the topography of the region, oriented to bring views of the Rocky Mountains through the building. The interiors reflect natural elements of metal, wood, sunlight and earth.

Realizing this architectural vision, Tubelite's 400T Thermal Curtainwall enclose a double-height, daylit atrium and reception area, and 900RW Thermal Window Wall provide views from the offices, training area and conference rooms.

Thermal and structural performance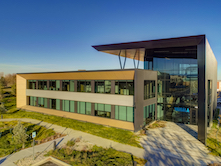 Engineered for mid-rise applications like Vaisala's headquarters, Tubelite's thermally broken curtainwall meets or exceeds today's stringent energy codes and net-zero goals. The 400T Series Curtainwall has a 2.5-inch aluminum face, with system depths from 6.25 to 10.25 inches and optional thermal pressure plates.

"Tubelite's Thermal Pressure Plate, supplied by Deceuninck, was key in meeting Vaisala's high thermal performance requirements and energy-efficiency objectives," said Tubelite's director of marketing, Tom Mifflin. "Thorough testing by an independent laboratory ensures our 400T system is the highest quality curtainwall framing product the industry has to offer."

"We were excited to work with Tubelite on the pressure plate for this new development," said Greg Koch, Deceuninck North America's vice president of sales and marketing. "Our custom solution, Innergy AP, enabled them to enhance the thermal and structural performance of their existing curtainwall system and realize the vision and high demands for this modern mid-rise building. The results are spectacular."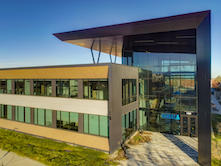 Combining Deceuninck's fiber-reinforced polymer thermal pressure plate with warm edge spacers, Tubelite's 400T Thermal Curtainwall can achieve a system U-Factor of 0.32. Tubelite's 400T curtainwall's expanded thermal break and thicker gasketing also improves condensation resistance (up to 80 CRFf), as well as provides industry-leading air, water, structural and acoustic performance.

Part of Tubelite's Therml=Block® product line, the 900RW Series Thermal Window Wall are ideal for between-slab "strip window" applications. The 2.25-inch-wide system is available in 4.5- and 6-inch depths. For Vaisala's building, the window wall was manufactured with silicone-glazed verticals and dual poured-and-debridged thermal breaks in the perimeter framing members. This system design has been tested to deliver as low as 0.32 U-Factors for thermal performance.

Tubelite's curtainwall and window wall systems are tested and modeled for thermal transmittance per the National Fenestration Council (NFRC) procedures. They also are tested per the Fenestration Glazing & Industry Alliance's AAMA standards for air, water, structural and condensation resistance.

Dependable engineering, efficient installation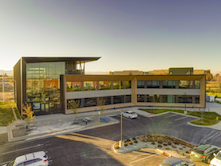 "We engineer 900RW and 400T to compliment each other in performance and aesthetics, providing a complete package that's easy to fabricate and install, which saves time, labor and associated costs," added Mifflin. Demonstrating its dependability and partnership, Tubelite's Damage Free Guarantee ensures orders are delivered undamaged, complete and on time.

Familiar with the dependable, high thermal performance of Tubelite's systems, general contractor FCI Constructors, Inc. has worked with Tubelite for more than 14 years. Some of their previous projects include Michigan's Agape Plastics, New Mexico's Gold Ave. Lofts, North Dakota's Mountrail-Williams Electric Cooperative's LEED Gold certified headquarters, and Wyoming's Frontier Refinery, Joint Forces Readiness Center and Rossman Elementary School.

On Vaisala's headquarters building, glazing contractor Colorado Window Systems worked closely with FCI and Tubelite on the building's 10-month construction timeline. In total, more than 3,400 feet of curtainwall and 8,100 feet of window wall systems were installed.

Durable and sustainable design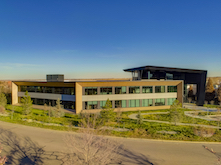 Protecting the systems' framing members and enhancing their appearance, Linetec finished the aluminum in a three-coat black 70% PVDF resin-based architectural coating. As an environmentally responsible finishing provider, Linetec uses a 100% air capture system and regenerative thermal oxidizer to safely destroy the VOCs in liquid paints' solvents. By managing this in its quality-controlled facility, there is no adverse environmental impact either at Linetec or on the jobsite.

The high-performance architectural coatings specified for Vaisala's curtainwall and window wall systems meet the industry's most stringent standards for resistance to humidity, chalking, chemicals, salt spray, gloss loss and color change. These durable finishes are low-maintenance and long lasting. Reducing the time and labor needed to maintain or repair office buildings also supports aesthetic, economical and sustainable building goals.

"The clean, modern architecture belies the complex design of the building," stated OZ. "The end result will be a NetZero-ready building with extraordinary low energy use that far surpasses energy-use codes, making it one of Colorado's most sustainable office buildings."

Along with the curtainwall and window wall systems' high thermal performance, other sustainable materials and features include: cross-laminated timber in lieu of steel, a high-efficiency heating and cooling system, extra insulation, and advanced water-saving fixtures. A rooftop patio off the atrium's third story allows access to the outdoors and sweeping views to the mountains. A pocket park on the rear of the building gives employees and guests additional options for enjoying the outdoors.

Beyond its sustainable design and construction, the building's interior offers a high-tech conference and training spaces with a sophisticated boardroom, comfortable employee breakrooms and flexible workstations. OZ noted that its design features "a variety of 'neighborhoods,' each with a unique personality specifically tailored to the work groups who will occupy the space."

Productive and collaborative spaces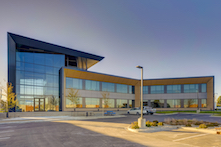 Opened in September 2020, construction of Vaisala's new North American headquarters was completed on schedule. Total construction costs have been estimated at $16 million. The building is one of seven U.S. offices and one of approximately 30 global offices for Vaisala's 1,900 employees. Due to the pandemic, about a quarter of the Colorado staff is working on site.

"The new building that expands our Louisville campus is an extension of our brand and our business: technologically advanced, highly sustainable, steeped in natural elements, welcoming and modern," said T.J. Mattimore, president of Vaisala Inc., the company's U.S. operating subsidiary. "OZ's design expresses our corporate values, while delivering an inspiring atmosphere for employee productivity and customer interaction. We're excited for Vaisala's future in Colorado."

Mattimore added, "Colorado is the perfect location for our U.S. headquarters. In addition to enjoying the benefits of a highly skilled technical workforce and outstanding colleges and universities, we also benefit from the close proximity to key partners such as the National Center for Atmospheric Research (NCAR) and the National Oceanic and Atmospheric Administration (NOAA). This exciting construction project reflects a renewed commitment by Vaisala to the region."

"Vaisala's commitment to sustainability and modernity made the architecture and interior design work particularly inspirational and compelling," said Jen Fumuso, project architect, OZ Architecture. "We're excited to have designed one of the state's most energy-efficient buildings, and Vaisala is the perfect occupant because this ethos is part of their core values, while they are dedicated to providing wonderful spaces for employees and customers alike."