Every year, new Topgolf venues open across North America and beyond. Supporting this consistent growth, ARCO/Murray Construction Company has provided design/build services for U.S. Topgolf locations since 2006. Partnering with its client and with Aria Group Architects, Inc., ARCO/Murray has helped create at least 60 Topgolf entertainment destinations with more planned.

Topgolf venues offer a golfing, gaming, dining and entertainment experience built on technology that uses embedded microchips in golf balls to track players' shots on its enclosed driving ranges. To ensure continuity across multiple sites, with multiple glazing contractors and multiple architectural aluminum framing systems, ARCO/Murray teamed with Tubelite Inc. on more than half a dozen Topgolf projects since 2015.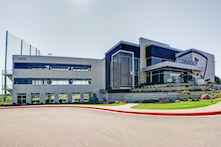 Tubelite's national accounts team assisted ARCO/Murray with product selection and services for such Topgolf destinations as Oklahoma City, Columbus, Omaha, Albuquerque and Chattanooga. Each venue is customized to its market and space using one of four prototypes. Inspired by the interactivity of Topgolf's games, the concepts convey a dynamic vibrancy and connectivity.

Topgolf's building exteriors feature a contemporary style and material composition of stone-like porcelain tiles, metal composite panels, and multi-story glass and aluminum curtainwall with intersecting planes illuminated in bright colors. The energetic, modern aesthetic continues inside with exposed utilities, geometric light fixtures, and ample use of glass and metal.

Tubelite's aluminum-framed storefront, curtainwall, entrance and interior systems were engineered and fabricated to meet each location's climate and specified performance needs. "Along with our quality products' dependable performance, we provided design/assist services to make sure our systems matched the client's expectations for budgeting, scheduling and maintaining a consistent brand appearance. This was especially important as we simultaneously coordinated projects with local glazing contractors across the country," said Tubelite's business development manager, Kent Baumann, LEED® AP.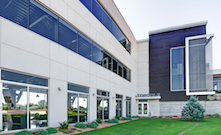 Overseeing the construction and managing all of the subcontractors and suppliers, ARCO/Murray brings each location's design to reality. "We have a national network of vendors and subcontractors. We prefer partners who can travel with us, that's how we maintain consistency," explained Erik Silvis, project manager at ARCO/Murray. "We need products to meet the design at a competitive cost. We've used a few different products that are approved-as-equal. The value is in how it's delivered."

He continued, "As we learned more about Tubelite, we recognized the value potential of working with an attentive partner that has control over its supply chain. The relationship we have with Kent and Tubelite is key. They can look at our projects across the country, track them all together and make recommendations that create flexibility. It's a no brainer to work together."

Working with several different vendors can present challenges and uncertainties, cautioned Silvis. "Each project has to stay in line with the client's projected development costs. Some vendors will give us an estimate without paying much attention to project's scope. Then, at great cost to me, they'll come back and tell me that it has to be done differently. I need that feedback before I get the owner's approval."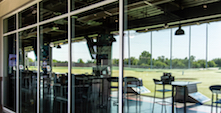 "With Tubelite, I know I can trust their numbers," complimented Silvis. "They take the time to review the wind pressures and other requirements, they handle the shop drawings for each of our projects and then we run them by our structural engineer for a final OK. When I need a glazing contractor for a particular project, I know I can ask for a recommendation. I feel safe working with Kent and Tubelite. It makes sense."

Tubelite and ARCO/Murray's collaboration usually involves Topgolf facilities that are approximately 65,000-square-feet , three stories tall and encompass 100 climate-controlled hitting bays. Representative amenities at Topgolf facilities include rooftop terraces with firepits, hundreds of high-definition televisions, private event spaces, and high-end bars and restaurants serving chef-driven cuisine and top-shelf cocktails with seating for more than 300.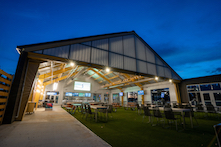 Designed for a community-focused smaller scale, the Topgolf Chattanooga presents a single-story, open-air venue with a minigolf course for family-oriented fun. Regardless of the destination's size, Tubelite's products provide the desired visual continuity on the entrances welcoming Topgolf guests throughout the multi-faceted indoor/outdoor facilities. The clean lines created by Tubelite's systems' anodized aluminum framing members fit seamlessly into Topgolf's high-tech, modern design.

Highlighting the versatility of Topgolf's destinations, some locations have hosted concerts with high-profile headliners, such as Snoop Dogg who performed a DJ set at the Topgolf in Oklahoma City. Catering to golfers at every skill level, and even non-golfers, Topgolf venues regularly host birthday parties, corporate events and fundraisers. Topgolf currently lists more than 50 physical locations in North America attracting 10 million annual visitors.