In 2013, Philadelphia, the City of Brotherly Love, will welcome thousands of global leaders in sustainability from Nov. 20-22 for the U.S. Green Building Council's annual Greenbuild International Conference and Expo — the world's largest and most influential conference and expo dedicated to green building.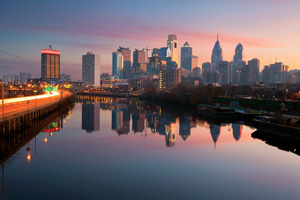 The LEED Gold-certified Pennsylvania Convention Center is the perfect setting to connect with green building colleagues and learn from international representatives from around the world.
Three days of extensive educational programming, workshops, a vast exhibition floor and ample networking events will provide unrivaled opportunities to learn about the latest technological innovations, explore new products and exchange ideas with other professionals.
Year after year, Greenbuild brings together industry leaders, experts and frontline professionals dedicated to sustainable building in their everyday work, and it sparks a unique energy. The ideals and passion of the green building community come alive, participants are invigorated and inspired, and they find themselves equipped to return to their jobs with a renewed purpose.
We anticipate that 30,000 attendees from 90 countries will join this year's event, featuring nearly 900 exhibitors with green product and service innovations and more than 100 educational sessions.
In 2013, Greenbuild proves that the green building movement is global, and the good we are working for is universal. Although USGBC's actions are local and regional, its impact is worldwide, and today it is united behind a shared sense of how a sustainably built environment can contribute to a healthy, prosperous future.
Whatever your story, your background or your nationality, you are a citizen of our planet, a citizen of our community, and a citizen of Greenbuild Nation — together reaching across borders to build a better tomorrow.
Sights Set on Green
Why did we choose Philadelphia for Greenbuild 2013? We are eager to show the world, sustainability advocates and the green building industry that Philadelphia is truly a leader in the sustainability movement, thanks to its policy leadership and environmentally friendly culture.
Aiming to make Philadelphia the greenest city in the United States by 2015, the mayor's office has set an ambitious standard for other cities to follow. Coined Greenworks Philadelphia, this standard encompasses more than 150 initiatives and goals in five areas — energy, environment, equity, economy and engagement — and it has been designed to help create jobs in the emerging green economy and reduce the city's environmental footprint.
Celebrate 20, Take an Insider's Look and Get Educated
Need to be convinced why you should attend Greenbuild? This year promises to be noteworthy as we celebrate the U.S. Green Building Council's 20th anniversary and convene for a tribute to our past and inspiration for the work we have left to do. The stage is set to get re-energized and refocused, and we are confident that now is the time to create and identify solutions for the future.
Additionally, in 2013, you're invited to take an insider's look into LEED v4 and to get educated.
Every year, Greenbuild is the place to learn about the changes in our rapidly evolving green building industry. This year Greenbuild will be the first place to learn about LEED v4, the next version of LEED set to launch at the conference. Since 2000, the LEED green building program has been transforming the marketplace to promote and embrace sustainable building design, construction and operations practices. At Greenbuild, attendees will have the opportunity to understand how LEED is evolving, and USGBC will also offer the latest in LEED education.
Finally, Greenbuild is a one-stop-shop for credential maintenance, with many opportunities to earn continuing education hours. With more than 100 education sessions, workshops and tours, professionals will be able to fulfill their credential maintenance for the year and earn up to 15 continuing education credits toward their LEED Green Associate, LEED Accredited Professional and other industry credentials.
 For more information, visit www.greenbuildexpo.com.