Features and Benefits: Cascade™ manufactured by PABCO Roofing Products features an unmistakable diamond shape that is recognized by U.S. Patent No. D589, 172 S. Cascade is a unique roof option for homes designed in classic architectural styles and homes in historic neighborhoods. All four traditional colors are available with the Scotchgard™ Algae Resistant Roofing System, which warrants that your roof will remain algae resistant for 20 years. The repeating offset application process allows for a straightforward installation and consistent finished appearance.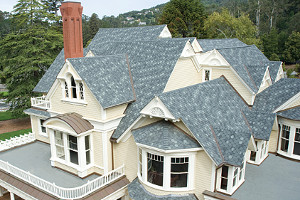 Dimensions: Individual shingle dimension is 151/2" x 40"
Where Available: Western United States and British Columbia
Number of Colors Available: 4
 Warranty Information: Cascade features up to a Limited Lifetime Warranty for single-family residential structures and 50-year Limited Warranty for all other structures. Wind Warranty is 110 mph for standard application and 130 mph for high-wind application.