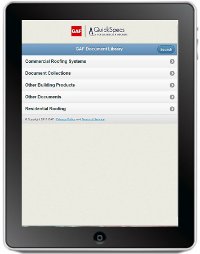 WAYNE, N J. — GAF announced the introduction of a new application called GAF QuickSpecs available through gaf.com or through going directly to mspecs.gaf.com. With functionality on Apple, Blackberry and Android platforms, the easy-to-use app offers users the ability to access all important product information and documents with just a few clicks.
GAFQuickSpecs offers a clean platform where users can select from commercial roofing systems, residential roofing, other building products, warranties and technical documents, or other documents. Each selection brings up folders to narrow down the search until the user is shown pdfs relating to the exact item he or she is researching.
"At GAF, we are continuously working to make things easier for our customers," stated Paul Bromfield, senior vice president of marketing. "With the use of this app, contractors, builders, architects, specifiers – whoever might be in need of GAF product specs, brochures, or product information – can easily access documents right from their mobile devices."
To download the GAF QuickSpecs App, visit http://mspecs.gaf.com. For more information, visit www.gaf.com.