The National Council of Architectural Registration Boards' (NCARB) tenth annual data report, NCARB by the Numbers, provides new insights into the health of the licensure pipeline and the effects of the COVID-19 pandemic on the field of architecture. For the first time, the 2021 edition includes enhanced data on diversity and exam pass rate disparities. The expanded demographic sections, for example, provide a more comprehensive look at attrition rates among various career stages. 
Key findings from the latest edition, which is based on data from the 2020 calendar year, include: 
Despite challenges amid the pandemic, there are now over 121,000 licensed architects across the 55 U.S. jurisdictions—a 5 percent increase from 2019. 
Candidates completed core licensure requirements—including earning a degree, completing the experience program, and passing the exam—in less time (12.3 years). 
Gender diversity continued to improve slightly at most career stages, with women representing 41 percent of new architects. 
Racial and ethnic diversity increased or held steady at all career stages in 2020, with half of NCARB Record holders now identifying as a person of color. 
Over the past decade, 63 percent of all candidates stayed on the path to licensure; however, candidates of color are far more likely to stop pursuing licensure. 
Delivery of the Architect Registration Examination® (ARE®) dropped by 44 percent, due in large part to test center closures from March through June 2020.  
On average, candidates take 4.5 years to finish the Architectural Experience Program (®AXP®). 
More than 85 percent of newly licensed architects graduated from a program accredited by the National Architectural Accrediting Board (NAAB). 
Graduates from accredited programs consistently perform better on the ARE, although they take longer to complete the exam.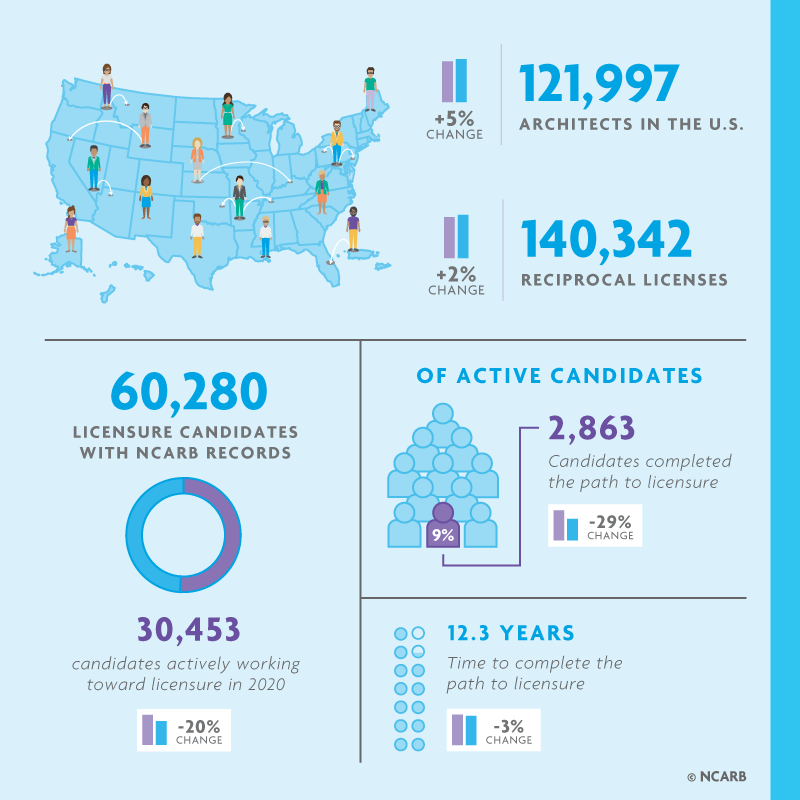 "A lot has changed since we published the first edition of NCARB by the Numbers 10 years ago. As always, we have continued to adapt, improve, and add to this information in order to offer clear, reliable data that helps licensing boards and the entire architecture community address today's most pressing challenges," said NCARB CEO Michael Armstrong. "The tenth edition provides insights into these challenges and trends, which will help guide the initiatives we are actively working on to support our Member Boards in delivering a stronger, more equitable path to licensure." 
The findings in NCARB by the Numbers are pulled from NCARB's database of over 113,000 licensure candidates and NCARB-certified architects, making this annual report the most comprehensive source for licensure statistics. 
To read the full report and explore interactive data charts, visit www.ncarb.org/NBTN2021.