Supporting cost-effective, energy-efficient, sustainable, high-performance building envelopes, Technoform introduces its thermal isolator clip for buildings with continuous insulation systems. Engineered for use in exterior wall cladding and façade systems, the thermal isolator clip is suited for both renovation and new construction applications. Reducing thermal bridging from the outer surface of outside panel to the interior wall, Technoform's clip helps save time, labor and energy costs.

Ensuring the dew point of the wall system stays outside of the air-water barrier, Technoform's thermal isolator clip provides a thermally efficient mounting support for cladding applications to maintain the continuous insulation requirements for the wall. This protects the integrity of the building structure by minimizing the potential for condensation inside the wall cavities, and by preventing the opportunity for mold growth or degradation.

"For building owners, architects, façade consultants, engineers and contractors looking for a simple, easy and effective solution to improve the overall thermal performance of their wall systems, our innovative product is a structurally powerful and efficient solution to keeping energy inside the building and condensation out," said Technoform's William Green.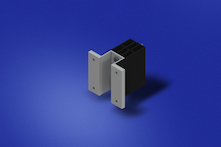 Green continued, "The new clip not only significantly reduces the energy loss typically experienced with conventional fasteners and framing systems, but also is significantly faster and easier to install. It provides an extremely low total installed cost, allowing more of the project budget to go toward the architect and not to the labor of installing it."

NovaTech Wall Systems, Inc. is among the first to experience Technoform's thermal isolator clip. "Technoform outperformed other systems in terms of speed of installation. Saving time translates to reducing cost for an installer. There's no doubt that time is money in this business. Thanks to its competitive price point, it's a great option for any project," praised Doug McIntyre, NovaTech's general manager. "Technoform's thermal isolator clip system is extremely versatile and can be utilized with a wide variety of rainscreen systems."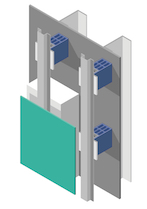 Technoform's thermal isolator clip works for virtually any substrate, insulation or cladding, including aluminum composite material (ACM), ultra high-performance concrete (UHPC), stone, terra cotta and other wall cladding materials.

Specifically engineered for thermal and structural properties, Technoform's thermal isolator clip is manufactured with fully encapsulated 40% glass-filled polyamide and a high-performing hybrid of structural-grade engineered composite, and an extruded aluminum clip. Unlike conventional steel and aluminum Z-girts, Technoform's clip significantly reduces thermal bridging, and is not susceptible to moisture, corrosion or electrochemical reactions.

Unlike fiberglass, the polyamide material requires no special saw blades or equipment, and no special handling or personal protective equipment. The thermal isolator clip's materials are 100% recyclable. The clip has passed ASTM E283, ASTM E331 and AAMA 501.1. It also has been tested to meet requirements for low-VOC emissions and for compliance with the National Fire Protection Association's NFPA 285 life safety.

Suitable for either horizontal or vertical applications in panel wall cladding systems, Technoform's thermal isolator clip currently is offered in 4-inch standard lengths. Additional sizes, ranging from 2 to 8 inches, are planned to be available in the coming months.

For more information on Technoform's thermal isolator clip and its other insulating solutions for façade, cladding and fenestration systems in North America, please email info.us@technoform.com